Aerospace engineering can sound like something we all dreamed about when we were kids — designing and testing aircraft, spacecraft, missiles, satellites.
Aerospace engineers get to have a hand in the real-world application of all the coolest toys we played with when we were little and they also play key roles in science fiction movies that require blasting a meteor out of space, disarming spy satellites and fixing spaceships during space travel.
A kid's passion will only carry them so far, though, because there's a lot of real study and years of experience that goes into this line of work. It requires intelligence, hard work and diligence in math, physics, chemistry and other related subjects.
Though the day-to-day job probably isn't as exciting as depicted (just like most other jobs), what is exciting is that it doesn't require as many years of schooling or as high a cost as other graduate professions.
Requirements to become an aerospace engineer
The first step is to get a bachelor's degree in engineering. The engineering degree is nice to have, but not a must-have as long as the degree is in a related field like physics or mathematics.
Beyond that, many employers in this field require either a master's degree or doctoral degree in aerospace engineering. The most common requirement is a masters in aerospace engineering, MSAE. The MSAE takes about two years and can be completed with a thesis or not. A doctorate could take up to four years post-undergrad.
Some schools have a joint BS-MSAE degree where an aspiring aerospace engineer can get both their bachelor's and master's degrees in five years. Purdue, University of Colorado, University of Florida and many other universities offer this fast track.
For those who still want to pursue the MSAE after graduating from an undergrad program, they can do it as a standalone. According to the U.S. News ranking of graduate programs for aerospace engineering, some of the standard engineering schools at the top, various "institutes of technology," are Stanford, University of Michigan, and Purdue.
How much do aerospace engineers make?
Aerospace engineers earn nice annual salaries, and they have a fulfilling career. The average aerospace engineer makes $118,610 per year, according to the Bureau of Labor Statistics. The average entry-level aerospace engineer salary is around $70,000.
Aerospace engineers can work for established companies like Boeing and Lockheed Martin, as well as startups like SpaceX and others. They can also work for the federal government as part of NASA, the Air Force and the Department of Transportation.
The city you're in and employer can have a big impact on these numbers. For example, San Francisco and New York City pay among the top, with salaries for entry-level positions in the $130,000 to $150,000 range and an average of $225,000 according to CollegeGrad. A tier below comes the District of Columbia (D.C.), Seattle and Los Angeles, where the average starting salary is in the $110,000 range and the average salary is in the $170,000 range.
What does it look like working in the government sector versus the private sector?
Aerospace engineer salary working in the government sector
Working in the government sector as an aerospace engineer can be a solid career choice. There's job stability, decent salaries, great benefits and generally higher quality of life. Unless it's NASA, typically these jobs will pay less than working in the private sector.
A side benefit is that these employers would make an aerospace engineer with student debt eligible for Public Service Loan Forgiveness (PSLF).
Let's look at two of the more common government employers: NASA and the Air Force.
NASA aerospace engineer salary
NASA is always looking for aerospace engineers and pays between $112,000 and $135,000 for experienced engineers. Although NASA is headquartered in Washington, D.C., there are plenty of jobs across the country. Indeed.com puts the average salary for an aeronautical engineer at just more than $115,000.
You can find NASA jobs in neighboring Maryland, as well as Ohio, Texas, Alabama, California and Florida.
Air Force aerospace engineer salary
The Air Force hires aerospace engineers, as well. The pay appears to be less than working for NASA (around $90,000). Most of these jobs appear on Air Force bases around the country.
Aerospace engineer salary in the private sector
Working in the private sector as an aerospace engineer can also provide a nice career. Private sector employers typically pay better and have a little more autonomy. Lockheed Martin and Boeing are two giants in the private sector. But there are also some startups, most notably SpaceX.
Lockheed Martin aerospace engineer salary
Lockheed Martin is one of the largest aerospace, defense, security, and advanced technology companies based in Bethesda, Md., but it has offices all over the world.
The average aerospace engineer salary at Lockheed Martin is in line with NASA but much higher than the Air Force (around $100,000).
Boeing aerospace engineer jobs
Boeing is most well known for its commercial aircraft, but the company is involved in many other aerospace products and areas. One of the largest companies in the U.S., Boeing designs, manufactures and sells airplanes, rotorcraft, rockets, small satellites, telecommunications equipment and missiles worldwide. Though it started in Seattle, the company is now headquartered in Chicago.
Boeing and Lockheed Martin pay similarly according to Indeed.com. Both companies are also publicly traded and may offer company stock, a bonus or other perks to their employees compared to government employers.
SpaceX aerospace engineer jobs
Space Exploration Technologies Corp., better known as SpaceX, is an aerospace manufacturer and space transportation services company headquartered in Hawthorne, Calif.
Founder Elon Musk wants to make space transportation more affordable and even claims that the company is trying to help make it possible to colonize Mars. The company appears to pay aerospace engineers more than Boeing, Lockheed and even NASA if you look at the numbers on Indeed.com.
Typical aerospace engineer student debt
Engineering school can be more expensive than traditional college due to the advanced technology needed for these programs. That being said, the same rules still apply. High-profile schools typically charge more, and in-state tuition is a more affordable option.
Post-undergrad, a high-caliber engineering student can go to MIT, Stanford or the University of Michigan (out-of-state) and pay more than $50,000 per year to get their MSAE.
If we look at the top 10 MSAE programs according to U.S. News & World Report, in-state tuition can be in the $11,000 to $20,000 range per year while out-of-state can be $30,000 to $50,000 per year.
An aerospace engineer with in-state tuition versus one who goes for out-of-state tuition could graduate with anywhere between $60,000 to $200,000 in student debt. The average engineer we've consulted with at Student Loan Planner® had $142,000 in student loans.
Student loan repayment strategies for aerospace engineers
We'll take a look at a couple of examples of how aerospace professionals can repay their student loans. Three main factors to look at are student loans, income and type of employer.
For simplicity, let's keep the assumptions the same. Let's take a hypothetical example of Michael, who has $142,000 in student loans from his BS and MSAE at 6%. He has two job options: work for Boeing or work for NASA. Both would pay the average $116,500 with 3% increases each year.
Let's take a look at loan repayment with both potential employers.
Hypothetical student loan repayment as an aerospace engineer at Boeing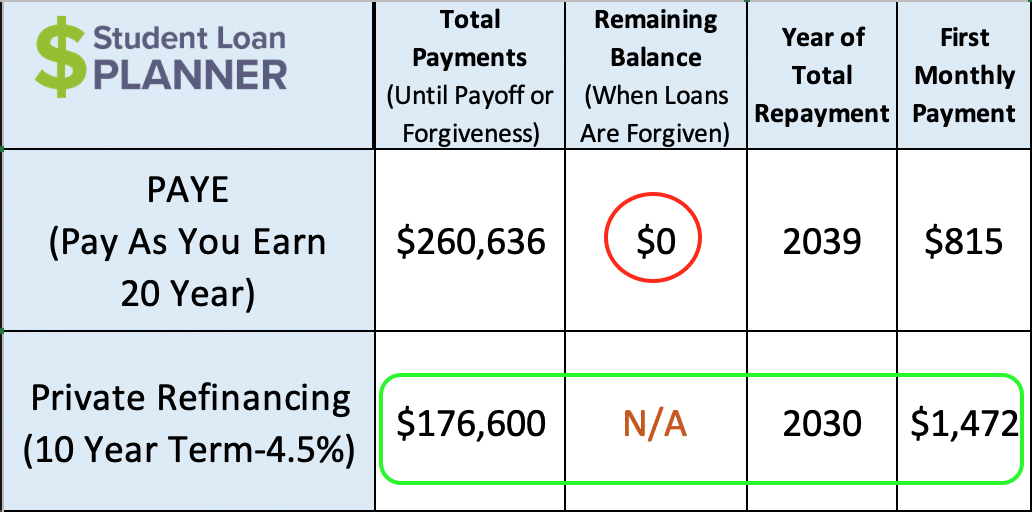 Refinancing is looking to be the best option for Michael in this scenario. He could go on an income-driven repayment plan like PAYE. The goal would be to pay as little as possible toward his loans and get as much forgiven as possible.
The problem is that his income is so high compared to his debt and he'd end up paying off the loans in full before there's any forgiveness. It is projected to cost him $260,636 over 19 years.
Michael should refinance to lower his interest rate and work to pay off his loans in 10 years or less. The faster he pays back his loans and the lower the interest rate he gets along the way, the significantly lower the cost of loan repayment will be.
Hypothetical student loan repayment as an aerospace engineer at NASA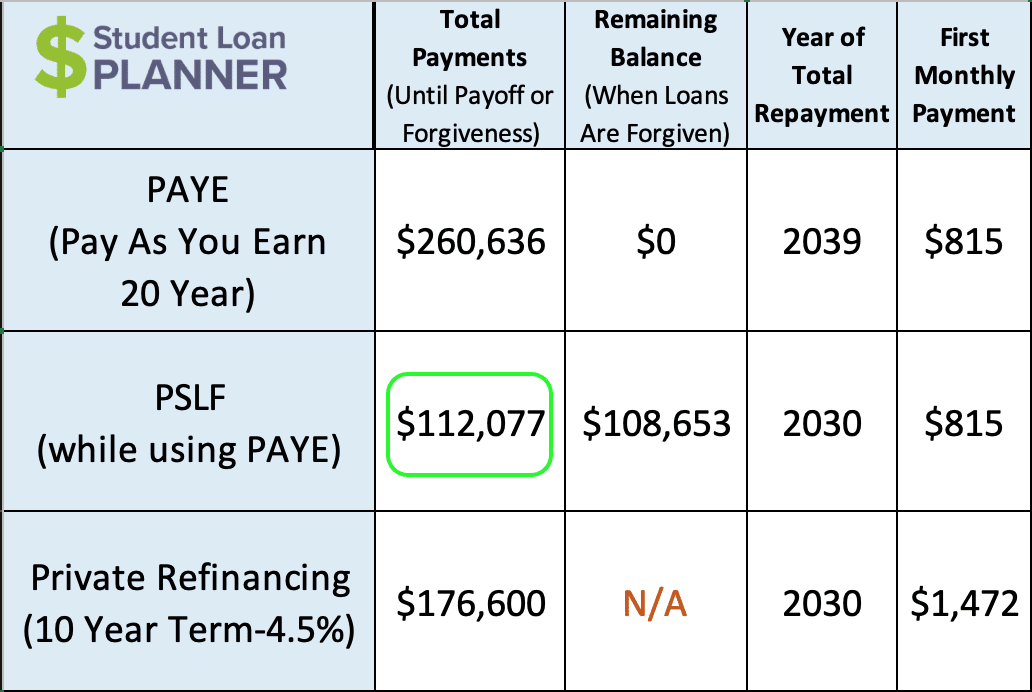 Continuing with our hypothetical example, if Michael instead worked at NASA, he could quality for Public Service Loan Forgiveness (PSLF). PSLF has the best projected savings by far. He'd be on PAYE for 10 years and have the rest of his loans forgiven tax-free. This option could save him $64,000 versus paying off the loan in full with refinancing. Both refinancing and PSLF would get him free of student debt in 10 years.
Both of these scenarios seem to be pretty affordable when earning a six-figure salary.
Is becoming an aerospace engineer worth the student debt?
Anyone considering a career as an aerospace engineer shouldn't let the finances stop them from doing so.
The average college graduate earns $66,000, and the average aerospace engineer salary is $50,000 more than that. Even if you include taking out $150,000 in debt compared to $0, it would only take three years to get a return on investment from the gross income. If the MSAE costs $50,000, then the return on investment is 100% in one year before taxes.
The one caveat is that anyone pursuing that career would probably end up making more than the average college graduate but would likely need to take two more years to get the MSAE (or one year with an accelerated BS-MSAE).
It is one of the most inexpensive graduate programs, however, especially compared to becoming an attorney, veterinarian or chiropractor, where the average student debt is much higher with average salaries at or below that of an aerospace engineer.
Yes, it's worth it to invest in becoming an aerospace engineer as long as it will lead to career and life fulfillment as well.
Aerospace engineers should get a solid student loan plan
These hypothetical case studies offer some straightforward scenarios, but chances are your situation is unique and could require a customized plan. Some of the questions you might face in coming up with that plan include:
Do you have a spouse, and, if so, what is your spouse's student debt situation?
What's the difference in income between you two?
What does your career path look like?
What other financial goals do you want to accomplish?
Aerospace engineers can find a clear path to pay back their student loans by getting a custom plan based upon their unique circumstances. Student Loan Planner® has performed over 5,875 student loan consultations for clients totaling over $1.44 billion of student loan debt. Whether you work for a government agency, a large corporation or a startup, we can help you figure out the optimal path in just one hour.
Plus, we include email support after the consultation to continue to answer your questions and help you implement the plan. Learn more about our consultation process here. Also, feel free to email me at [email protected]